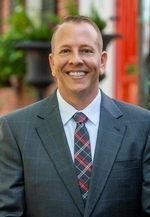 As a broker who has been an expert in this local area for more than a decade, I bring a wealth of knowledge and expertise about buying and selling real estate in the Greater Savannah market. It's not the same everywhere, so you need someone you can trust for up-to-date information. I am eager to serve you. Here is a little about me:
Originally from the middle Georgia area and fresh out of the U.S. Army, I moved to Savannah in 2001 in pursuit of a career in business after taking a management position with a well-known national organization. Since that time I have obtained my Bachelor of Science in Legal Studies, graduating Summa Cum Laude, and have taken advantage of a number of opportunities in sales and sales management positions in the Savannah area, all of which have taught me a great deal and helped make me very successful.
My combined experience has allowed me to develop into a confident, disciplined and reliable sales leader which has helped Savannah Real Estate Experts grow into one of the most reputable real estate brokerages in the area with only the best and most genuine agent partners. Our agents and I are assisted by a unique array of tools, technology and support systems that allow us to place all of our focus on our clients; and our past clients continuously tell us that our agents quickly make them feel comfortable and reassured during their selling and/or buying experience. This is evidenced by the amount of repeat and referral business that we receive, for which we are very grateful!